Even in the Cannon's Mouth by Adrian Tchaikovsky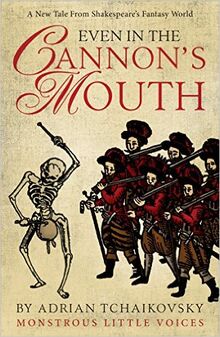 Published: Monstrous Little Voices: New Tales from Shakespeare's Fantasy World (ed. David Thomas Moore, Abaddon Books) Mar 2016. Also released as standalone e-book Feb 2016.
Reviews: SF Bluestocking, Starburst
Word Count: approx. 19,500 words
Illyria's Duke Orsino has raised new, powerful allies, and in a last-ditch attempt to win the war, Don Pedro and his brother John, wise old Jacques and the physician Helena sail to Milan to appeal in person for the wizard Prospero's aid. But unseasonal storms drive them onto the Illyrian shore, and into the hands of their enemies...